Eve Taylor Revitalising Aromatic Serum No.5
Eve Taylor Revitalising Aromatic Serum No.5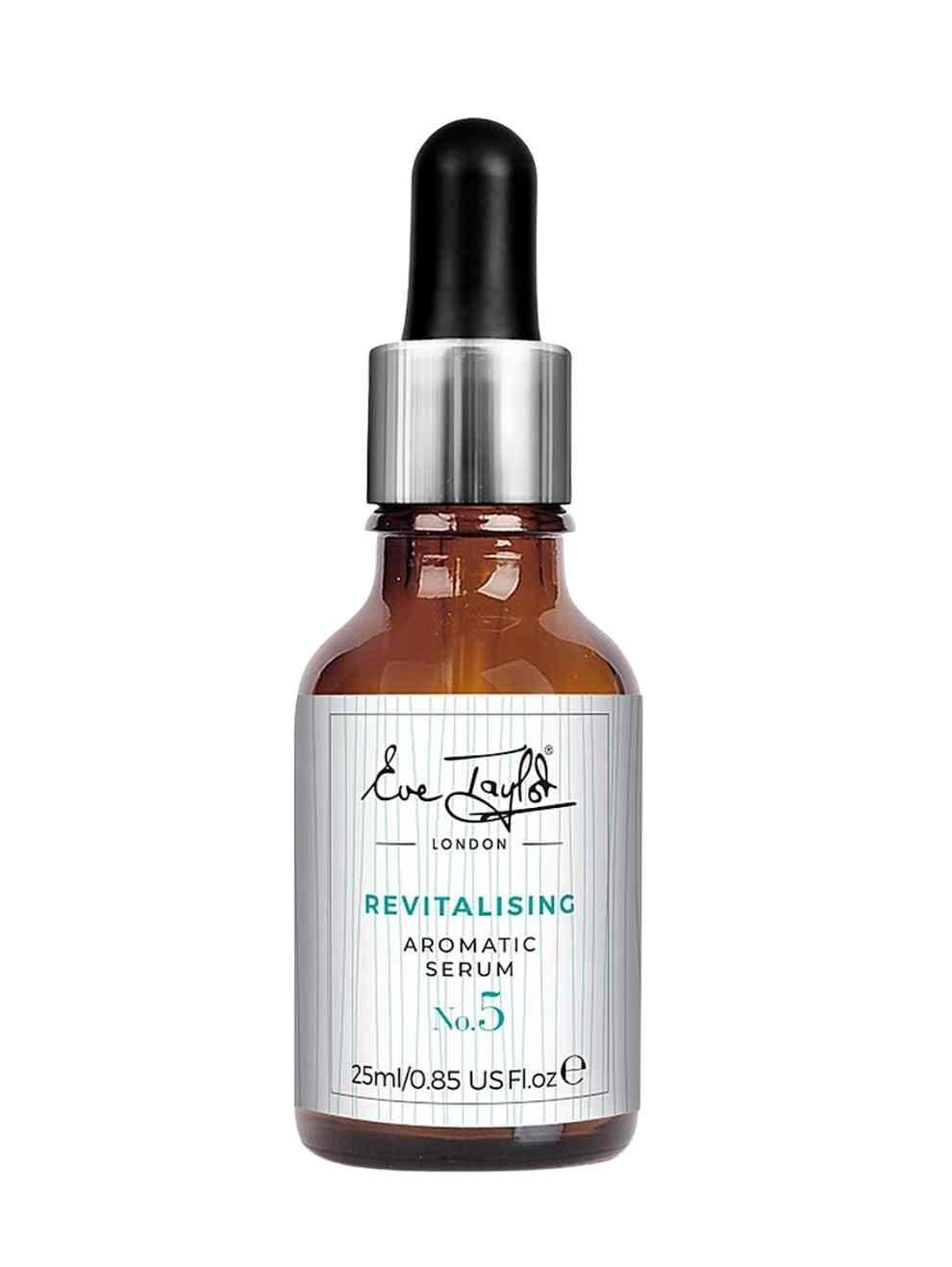 Roll over the image to zoom in
I use revitalising Serum no.5 everyday, l find its great,l have mature skin, it blends on lovely,absorbs nicely,leaving my skin feeling hydrated and smooth as if l have had a mini facial...definitely my go to daily pick me up that gives fab results.
I use this revitalising aromatic serum No.5. 3-4 drops every morning and evening before l apply my moisturiser, l love how it feels on my skin and it has a gorgeous smell.
Eve Taylor London
Suitable for: Pre-maturely Ageing, Mature, Peri-Menopausal skin. 
Size: 25ml
Eve Taylor Revitalising Aromatic Serum No.5 is an aromatic treatment serum with a stimulating blend of essential oils to encourage oxygenation and improved elasticity, creating a more supple texture for a radiant, revitalised complexion.
Expertly hand blended aromatic oils deeply nourish by boosting circulation and smoothing skin texture.
Anti-oxidant rich oils fight free radicals preserving skin integrity.
Phyto-nurient rich oils supply essential fatty acids to lipid dry skins.
£0.00
£12.49
Eve Taylor Revitalising Aromatic Serum No.5
Eve Taylor Revitalising Aromatic Serum No.5: Gently smooth 3-4 drops of Aromatic Serum over face and neck. Continue with suitable toner and moisturiser.
Eve Taylor Revitalising Aromatic Serum No.5: 
Rosewood – promotes unrivalled cellular stimulation and improvement to the skin tissues. Supports an overwhelmed mindset by reassuring and emotionally comforting. 
Marjoram - boosts microcirculation in the skin. 
Sweet Orange – illuminates and brightens dull skin, giving a radiant complexion. 
Soya Oil – phyto-oestrogen rich compounds support menopausal skin conditions experiencing decreasing levels of free fatty acids.
Hazelnut Oil – nourishes the skin and imparts benefits of Vitamins A, B and E.
Eve Taylor Revitalising Aromatic Serum No.5: Glycine Soja oill, Corylus Avellana seed oil, Persea Gratissima oil, Triticum Vulgare germ oil, Aniba Rosaodora wood oil, Juniperus Virginiana oil Origanum Majorana leaf oil Lavandula Angustifolia oil, Citrus Aurantium Dulcis peel oil, Pelargonium Graveolens flower oil, Santalum Album wood oi, Benzyl benzoate, Citral, Farnesol, Geraniol, Linalool, Limonene, Citronellol.
Eve Taylor Revitalising Aromatic Serum No.5: 
Due to the high concentration of essential oils, this product is not recommended to be used at any stage of pregnancy. During second and third trimester of pregnancy instead use Soothing Aromatic Serum. 
This product may be used by those with nut intolerances or allergies due to the refining process removing all allergenic fractions of the nut oil. 
Suitable for Vegans.