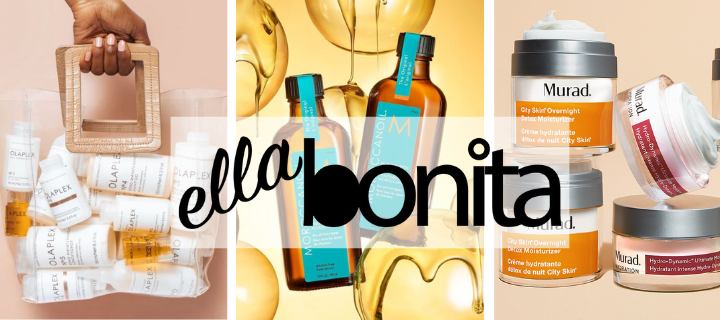 Having just launched in May of 2020, we are still the newcomers on the block!
At EllaBonita, we have a wide range of fantastic products to make you not only look beautiful but feel beautiful too!
We stock some absolutely gorgeous brands at great prices. From haircare brands like Olaplex, Moroccanoil and Nioxin to skincare favourites like Murad, CeraVe and Eve Taylor, there is something suitable for everyone.
All our products across the entire site are purchased directly here in the UK from known and trusted suppliers so we can guarantee that our products are 100% genuine and authentic.
Our online chat is available 6 days a week, so you are rarely left in the dark when it comes to selecting what skin or haircare products are right for you – Simply hit the chat button and I'll be here (yes a real person! ) to guide you in the right direction!
We have easy to use filters so you can search by anything; from your skin type to certain active ingredients which make it easy to navigate around the site and find exactly what you are looking for.
Stay up to Date
To be the first to know about new product launches, top beauty secrets and great offers, sign up to our newsletter here or follow us on our social media pages.
What Our Customers Say About EllaBonita
⭐⭐⭐⭐⭐
Christine King
I love shopping on EllaBonita and am a repeat customer. Ella had a huge range of high quality, affordable products. Her special offers are great and delivery to Ireland is super quick. I also love Ella's tips and advice that she shares on her social media accounts and via her email subscription.
⭐⭐⭐⭐⭐
Aisling Doyle
Ordered several times from EllaBonita. The service is so quick and she even helped me with choosing the best product to suit my skin. Very friendly. Its nice to speak to a human! Highly recommend
⭐⭐⭐⭐⭐
Lauren Stewart
Absolutely fantastic service. Ordered the olaplex kit last night and my package was here today. Was so well presented and looked lovely. Amazing prices for the olaplex and amazing customer service. 100% will be ordering more products from this company again. 10/10
⭐⭐⭐⭐⭐
Callum Moloney
Great service all round. Easy to use website, plenty of information on the products and prompt delivery. Very happy customer...highly recommend!
⭐⭐⭐⭐⭐
Nichala Kinsella
Absolutely fantastic service. There was a slight alteration to my order but I had personal email to inform me of this. When my package arrived, the added touches that made it so pretty and personal were second to none. I will be a returning customer. Thank you!
All reviews come from Google Reviews of EllaBonita. Read more like this here.