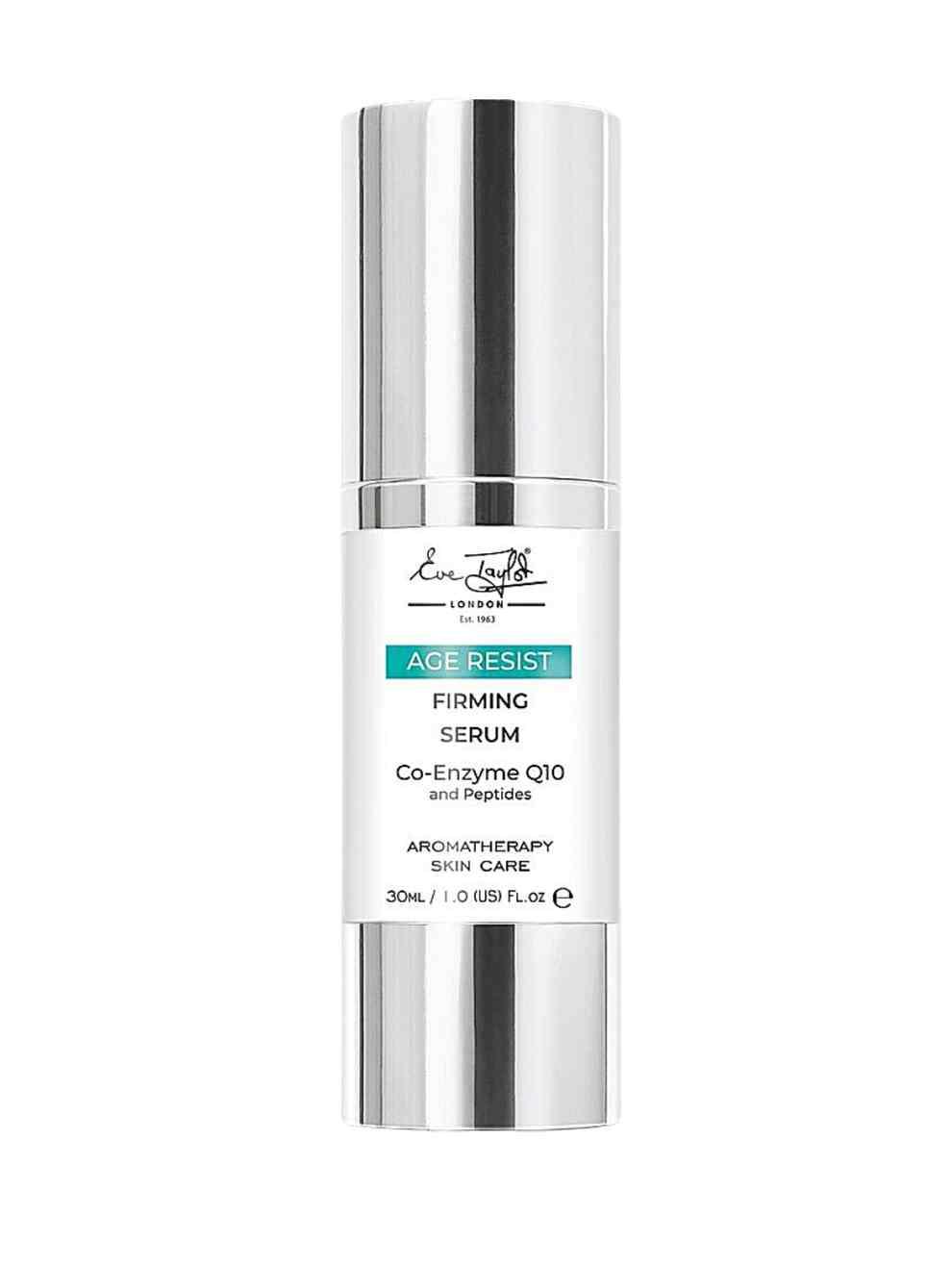 Roll over the image to zoom in
Be the first to review this product.
Eve Taylor London
Previously named Q10 Serum
Suitable for: Loose, sagging skin with loss of firmness, skin with lines and wrinkles 
Size: 30ml
The Eve Taylor Firming Serum is an easily absorbed serum that delivers potent anti-oxidants to firm and combat free radicals protecting collagen and elastin fibres from degradation. With peptides to stimulate collagen helping minimise lines and wrinkles the firming effect on the surface gives immediate tightening sensation.
A firming serum with anti-oxidants to combat the signs of ageing.
Contains peptides to help firm the skin and minimise lines and wrinkles.
An ideal serum for ageing or prematurely ageing skin.
£0.00
£30.60
Eve Taylor Firming Serum
Eve Taylor Firming Serum: Apply a thin layer to face and neck, allow a few seconds for it to absorb before proceeding with next product.
Eve Taylor Firming Serum:
Co-enzyme Q10 - is regarded as the queen of anti-oxidants and defends against damaging free radicals and oxaditive stress to help skin maintain a youthful appearance. 
Palmitoyl Tripeptide-1 – a signal peptide that helps to repair visible skin damage and strengthen skin's underlying supportive elements leading to a firmer skin. 
Palmitoyl Tetrapeptide-7 - suppresses the inflammatory response which can lead to glycation damage, the process by which glucose links with proteins causing them to bind together, stiffening tissues and causing noticeable signs of skin ageing. 
Hesperidin Methyl Chalcone –strengthens and lowers the filtration rate of capillaries. When used under the eye area it lessens the blood flowing though capillaries close to the surface of the skin, reducing the discoloration and dark circles under the eyes.
Eve Taylor Firming Serum: Aqua, Glycerin, Ubiquinone, Lecithin, Sorbitol, Panthenol, Glucose, Sodium Dehydroacetate, Palmitoyl Tripeptide-1, Palmitoyl Tetrapeptide-7, Acrylates/C10-30 Alkyl, Acrylate Crosspolymer, Triethanolamine, Trilaureth-4 Phosphate, Citric Acid, Steareth-20, Chlorhexidine Digluconate, Phenoxyethanol, Ethylhexylglycerin, N-Hydroxysuccinimide, Sodium Citrate, Potassium Sorbate, Chrysin, Citrus Grandis Peel Oil, Limonene.
Eve Taylor Firming Serum:
This product may be used during any stage of pregnancy. 
Suitable for Vegans.