Eve Taylor Age Resist Nourishing Eye Complex Cream
Eve Taylor Age Resist Nourishing Eye Complex Cream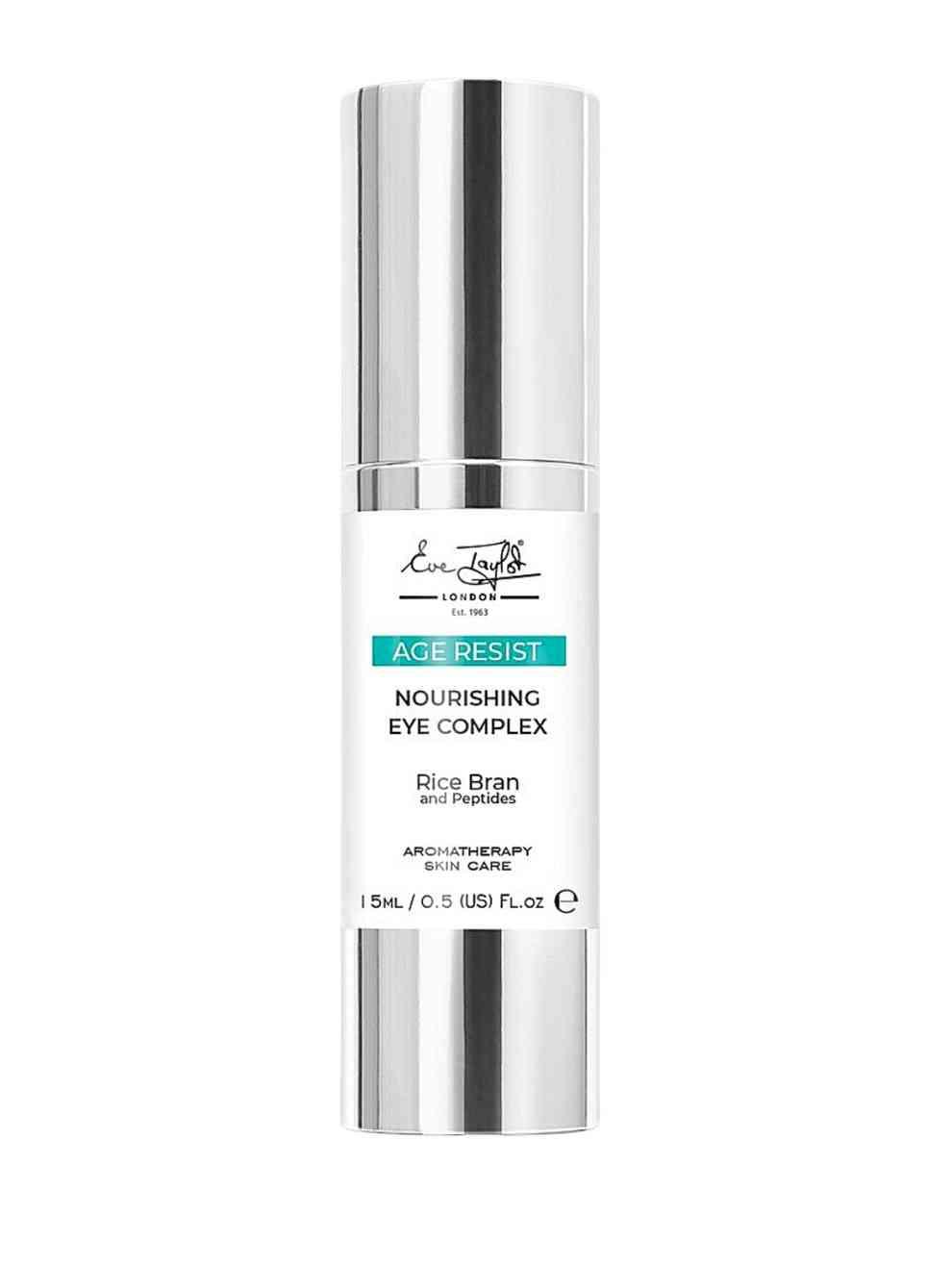 Roll over the image to zoom in
Love,love,love this magic cream, fabulous to use and really works!!
Eve Taylor London
Suitable for: Eye area experiencing lines, crepeyness, dark circles or the general signs of ageing. 
Size: 30ml
Eve Taylor Age Resist Nourishing Eye Complex Cream is a deeply nourishing cream for the delicate eye area with anti-inflammatory and anti-oxidant properties. Botanicals target dark circles while peptides fight against lines and wrinkles. A unique moisture lock system of botanicals and silicones keep the skin smooth, hydrated and protected.
Peptides help build and strengthen the dermis leading to fewer lines and wrinkles and a smoother firmer skin.
Powerful anti-oxidants protect from the environment as well as maintaining skin integrity.
Humectants infuse moisture while silicones seal it in keeping skin hydrated, soft and supple.
£0.00
£30.00
Eve Taylor Age Resist Nourishing Eye Complex Cream
Eve Taylor Age Resist Nourishing Eye Complex Cream: Using fingertips gently press and smooth a small amount to eye area, underneath and over brow bone.
Eve Taylor Age Resist Nourishing Eye Complex Cream:
Base Ingredients: Squalene and Glycerine
Hydrolysed Rice Bran - rich in phytic acid helps brighten and illuminate dark circles as it binds copper preventing full development of colour. 
Soy Peptides - stimulate fibroblasts to produce and support collagen production for a more youthful look.
Palmitoyltripeptide 5 - protects proteins in the dermis as it acts as a Matrix Metalloproteinase inhibitor helps to preserve dermal structure; whilst stimulating collagen and elastin fibres to provide more strength and support to the skin. 
Glycolipids & Hyaluronic Acid – saturate the stratum corneum with essential hydration, assisting with healthy functioning of the skin, healthy desquamation and increased moisture absorption, plumping out fine lines and giving a smooth appearance to the skin.
Eve Taylor Age Resist Nourishing Eye Complex Cream: Aqua, Squalane, Glycerine, Saccharomyces Lysate Extract, Glyceryl Stearate, Cetearyl Alcohol, Glycosaminoglycans, Hydrolyzed Rice Bran, Glycine Soja Proteins, Ceteareth 20, Cyclomethicone, PEG 100 Stearate, Ubiquinone 50, Cyclopentasiloxane, Cyclotetrasiloxane, Oxido Reductases, Dimethiconol, Octyl Cocoate, Dimethicone, Phenyltrimethicone, Lecithin, Glycolipids, Palmitoyal Tripeptide 5, Sodium Hyaluronate, Butylene Glycol, Dimethyl MEA, Carbomer, Benzyl Alcohol, Macadamia Glycerides, Triethanolamine, Retinyl Palmitate, Ascorbyl Palmitate, Tocopheryl Acetate, Phenoxyethanol, Camellia Sinensis, Humulus Lupulus Extract, Equisetum Hyemale, Citrus Medica Limonum Peel Extract, Pinus Strobus Extract, Rosmarinus Officinalis, Polysorbate 20, Ethylhexylglycerin, Linalool, Limonene.
Eve Taylor Age Resist Nourishing Eye Complex Cream:
This product may be used during any stage of pregnancy 
Suitable for Vegans