Olaplex No.9 Has Just Launched!
Have you heard the news yet? Olaplex has just brought out yet another product – the new Olaplex No.9 Bond Protecting Nourishing Hair Serum. Since word got out, there has been a huge flurry of excitement in the haircare community with everyone wanting to be the first ones to get to their hands on it!
For me, I am very excited for this launch as it promises to hold styles for longer making it perfect for curly haired people like me!
If you haven't heard of Olaplex, honestly where have you been living?! Olaplex took the world by storm starting from a small garage in California in 2014 where its popularity has been growing globally ever since. It's patented formulas and famous ingredient – Bis-Aminopropyl Diglycol Dimaleate - helps to repair and restore the broken bonds in your hair leaving it smoother and softer than ever. With over 100 patents under its belt, you won't find anything that comes close in comparison.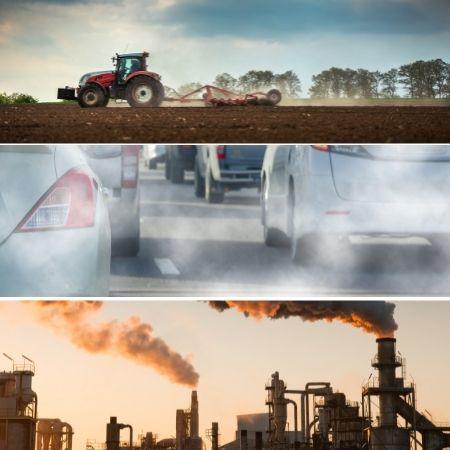 The world we live in has changed a lot over the years. Now, there are significantly higher levels of pollution in the air compared to back in the day. In cities, we have a higher number of cars and factories while even in more rural areas, there are obvious signs of farming pollution from machinery which release free radicals into the air.
What is a Free Radical?
Without getting too science-y here, free radicals are tiny atoms formed naturally in the human body and from pollutants in the air. Lifestyle factors like smoking, drinking alcohol, a bad diet and living in a high polluted environment can speed up the production of free radicals. This is why some people age at a faster rate than others.
In order to neutralise a Free Radical and basically cancel them out, we need plenty of anti-oxidants. We can get anti-oxidants from foods such as blueberries, broccoli and spinach. An anti-oxidant attaches themselves to a free radical which lessens its effects and prevents it from doing its job of damaging the cells in the body.
As much as we can clean up our diet and live a healthy lifestyle, there is no escaping the fact that pollution is all around us and isn't getting better any time soon.
Our hair is constantly being attacked daily by these pollutants (free radicals). The effects on our hair are more frizz, split ends, short style retention and breakage. Its appearance becomes dull, dry and flat and who wants that!
Why do you need to know this? Well, the Olaplex No.9 Bond Protecting Nourishing Hair Serum is JAMMED full of anti-oxidants to destroy the damage-causing free radicals making it the perfect addition to your haircare routine.
What does Olaplex No.9 do?
Olaplex No.9 Bond Protecting Nourishing Hair Serum was created to provide a protective shield over the hair to:
- Protect against damage from pollution for 48 hours
- Guard your hair from breakage
- Defend against heat styling
What is in Olaplex No.9 that makes it so special?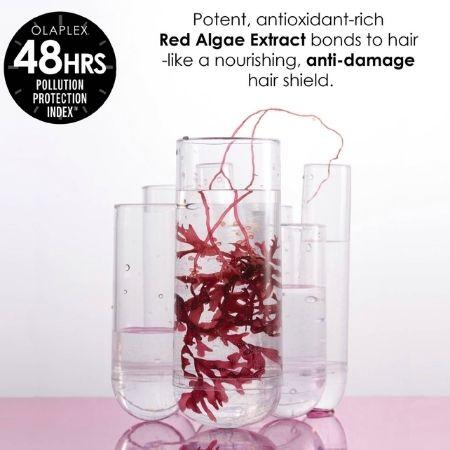 The scientifically proven formula contains 2 key ingredients:
Bis-Aminopropyl Diglycol Dimaleate
This is the patented technology that Olaplex is renowed for. It repairs the disulfide bonds of your hair from within leaving it stronger and healthier with each use.
Red Algae Extract
This is rich in very powerful anti-oxidants which as I mentioned earlier, helps to neutralise free radical damage - Think of it like an umbrella over your head all day acting as a shield preventing damage.
What other benefits does it have?
- As it is a weightless serum, it doesn't feel heavy on your hair or leave it looking greasy. Instead, your hair is left smooth with a gorgeous shine.
- It has a heat protectant of up to 232 degrees celsius so you can use heat tools like blow-dries, curlers and hair straighteners knowing your hair is protected.
- Its formula is free from silicones making it great for all hair types but especially curly hair friendly.
How is Olaplex No.9 different?
The Olaplex No.9 Bond Protecting Nourishing Hair Serum is a powerhouse product for protection but also has multiple other immediate and visible benefits for your hair like:
- It provides a gorgeous satin shine with a soft to the touch finish
- It has bounceback memory thus providing better retention for your hair styles
- It helps to combat frizziness for all hair textures and is anti-static
- Olaplex No.9 assists in speeding up your blow dry time while detangling hair more effectively
- It is perfect for curly and wavy hair types as Olaplex No.9 maintains the hold of your style for longer
The Olaplex Promise:
As with all the other Olaplex products in the range, the Olaplex No.9 Bond Protecting Nourishing Hair Serum is:
- Paraben and Phosphate free
- Sulfate free
- Cruelty free – doesn't test any of their products on animals
- Colour safe
- Vegan Friendly
- Suitable for all hair types
- Products produced with a low carbon footprint on the
How to use Olaplex No.9 Bond Protecting Nourishing Hair Serum?
Despite the higher number in the Olaplex line up, it is actually the first product that you would use in your hair styling routine after you have finished washing, conditioning or applying a mask.
It is recommended to apply a small amount on damp, towel dried hair after washing or if you wish, you can also use it in between hair wash days to add more pollution protection and keep frizz at bay. Start at the ends and work your way up to your roots. If you have longer hair, you may need to add more product.
Depending on the style you wish to achieve, there are 3 different ways to finish your style:
1. Allow your hair to air-dry for a nice, soft texture.
2. For a smooth and sleek finish, blow dry your hair.
3. Use a diffuser for definition with curls and waves.
Where can I get Olaplex No.9?
At EllaBonita, we stock the full range of Olaplex including the new Olaplex No.9 which we will have in stock on Friday April 1st. It is available now to pre-order. You can shop through the link here.
You can choose to purchase the item separately or I have created many Olaplex haircare bundles to give you fabulous hair at more pocket friendly prices!