Leave Lockdown with Luscious Locks
Lockdown has left many of us feeling less than confident when it comes to the hair on our heads and most of us have dabbled in a home treatment or two ourselves –the home die jobs, bleaching and taking the kitchen scissors to your ends- in a bid to get some sort of control over our unruly manes. While it seemed like a good idea at the time, you're probably now looking in the mirror thinking WHY! Let's hope you're not having as bad a hair day as Polly here below.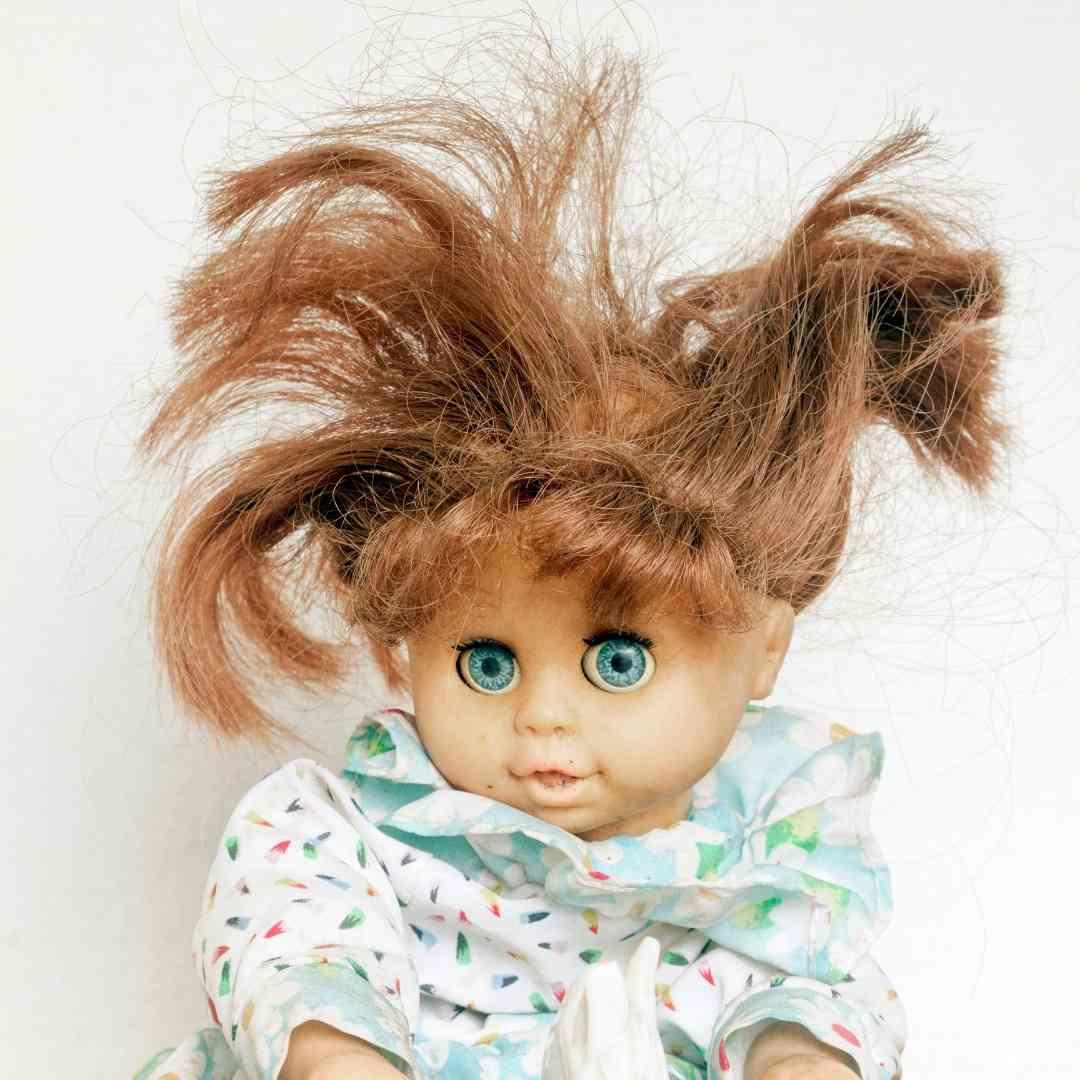 But rest assured, we have the solution to help restore your barnet making it strong, shiny and healthy!
Damage to our hair is done easier than we think. Our hair is constantly exposed to environmental factors such as wind, sun, humidity and pollution – Not forgetting our own damage we do through bleaching, straightening and curling the life out of our frizzy locks! Did you know that even something as basic as tying your hair up too tight or the friction created from your pillowcase when sleeping is enough to cause damage to your hair strands?
What are the results of damaged hair? Our hair is left looking less than desirable! Think split ends, prone to frizz, hair snapping off, dry and rough, hard to style and not maintaining its colour as long as it should – not ideal.
The hair is made up of 3 parts: the cuticle, the cortex and the medulla. The cuticle is the outer layer with the medulla being in the centre. Your hair is made up of a very strong, hard wearing protein called Keratin. It is held together by disulphide bonds and hydrogen bonds.
The disulphide bonds break when you relax or perm your hair and then reset into their new shape, which allows you to permanently keep your new hair style. Disulphide bonds are also broken during colouring and bleaching. Hydrogen bonds are flexible and can be easily damaged with water or heat.
The cuticle acts as your hairs outermost barrier which is formed from overlapping layers like the tiles of a roof and is designed to strengthen and protect the hair shaft. When the cuticle is in good condition it appears smooth and flat. If the cuticle becomes damaged, it allows moisture to seep into the cortex and medulla of the hair which is how we end up with dry, brittle, frizz prone hair.
The Cortex houses your disulphide and hydrogen bonds which need protecting to maintain hydration, strength and flexibility in your hair.
Now, enough talk about damage, let's move on to how to repair it! For a very long time, the only solution was to go to the hairdressers and cut off the damaged hair. The great news is there is now a better way to tackle the issue than loosing 6 inches off the end of your locks…
Olaplex is a haircare brand that has hit the world by storm and is widely used around the globe by A-Listers like Kim K, Drew Barrymore and Emma Stone… if it's good enough for them, I'll happily take two! The range began as a 3 Step programme consisting of 2 in-salon treatments and a homecare product before it developed 6 (soon to be 7!) treatments that we can now do from the comfort of our own homes!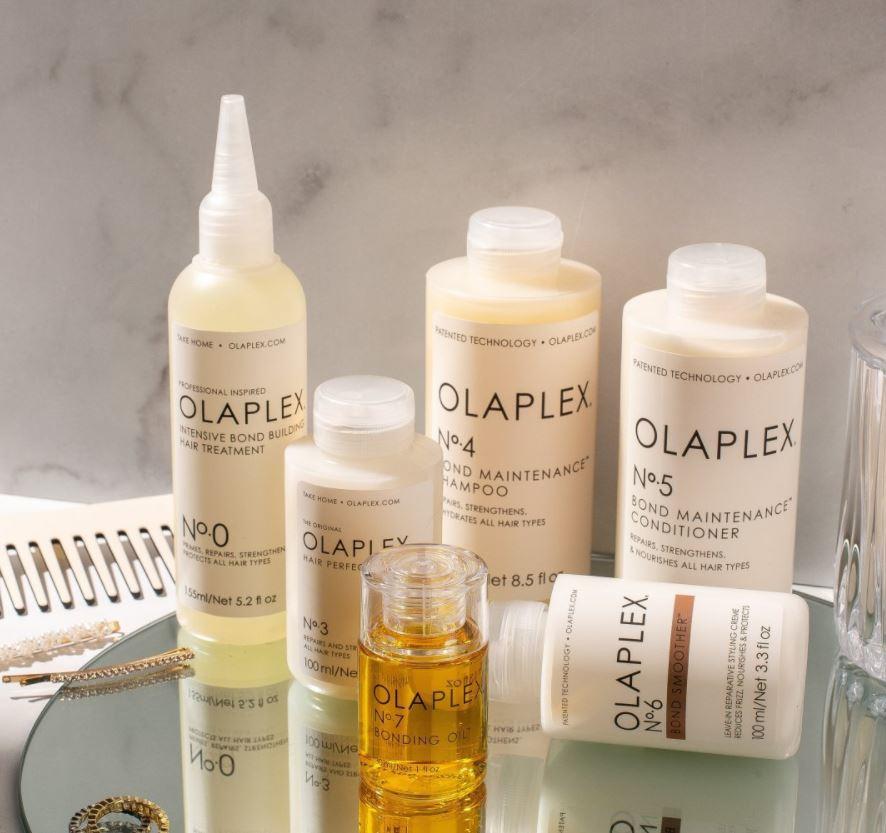 These amazing formulas can be used by everyone on all hair types and conditions. Olaplex not only benefits avid lovers of bleaching and colouring their hair but also works great on "virgin" hair too (hair that hasn't been coloured before). The range consists of highly concentrated formulas so a little goes a long way. Not only is Olaplex cruelty-free and 100% Vegan friendly but it's also proud to be free of Parabens, Sulfates, Phosphates and Phthalates.
Olaplex No.1 and No.2 are in-salon treatments that are perfect for improving the overall health of your hair. If you are having a colour or heat service done at the hairdressers, I would recommend adding this into your treatment to protect the integrity of your hair.
Olaplex No.0 PRIME is a slightly diluted version of the in-salon treatment Olaplex No.1 making it ideal for home use. It is scientifically proven to give 68% more repair and provide the hair with 3 times more strength. It prepares the hair for a deeper repair and protects newly formed disulphide bonds. Olaplex No.0 works best when used with Olaplex No.3.
This comes with a nozzle making it very easy to apply to your hair. Apply onto clean dry hair and distribute the product evenly using a wide toothed comb. Ensure the hair is fully saturated. Leave the product to work for 10 minutes.
Olaplex No.3 Hair Perfector - REBUILD
This is Olaplex's Hero Treatment that uses a Patented technology to repair the disulphide protein bonds in your hair. Many confuse Olaplex No.3 as being a hydrating mask- its main job is to rebuild and repair each strand leaving it stronger and healthier with each use. This works well also with curly hair to rebuild lost curl pattern.
It is a very simple treatment to do at home. Apply the treatment to damp hair on top of Olaplex No.0. Spread evenly throughout the hair using a wide-tooth comb. Sit back and let the product work its magic. The suggested time is 10 minutes but the longer the better here…The great news is you can never overuse Olaplex!
Olaplex No.4 Bond Maintenance Shampoo – CLEANSE
Olaplex No.4 protects and repairs damaged hair, split ends and frizz by using Olaplex patented technology that finds and re-links broken disulphide bonds in the hair. Olaplex shampoo helps to improve moisture levels, enhance shine and to maintain high quality colour. It provides a deep cleanse to your hair without stripping the hair of its natural oils.
Use No.4 Bond Maintenance Shampoo every time you wash your hair or after rinsing No.3 Hair Perfector from your hair. Apply a small amount focusing on the roots and work into a lather before rinsing out fully with warm water.
Olaplex No.5 Bond Maintenance Conditioner - MOISTURISE
This Olaplex conditioner gives your hair a boost in hydration while strengthening and leaving your hair stronger with each use. It is colour-safe and prolongs the vibrancy of hair colour. It repairs damaged split ends by relinking broken bonds. Personally, I did find this bottle a little hard to squeeze out so a top tip would be to stand them upside down in the shower!
After shampooing, apply a generous amount of Olaplex No.5 from scalp to roots. Leave on your hair for a minimum of 2-3 minutes, then rinse out.
Olaplex No.6 Bond Smoother - NOURISH AND PROTECT
Olaplex No.6 is a highly concentrated leave-in styling creme which eliminates frizz, hydrates, repairs and protects all hair types including coloured and chemically treated hair. It helps strengthen, hydrate and moisturize while also speeding up blow dry times. The Bond Smoother eliminates frizz and flyaways for up to 72 hours.
For best results, apply Olaplex No.6 at nighttime to wake up with amazing hair the next day! Apply a very small amount to damp or dry hair, concentrating product on your mid-length to ends. Comb through to make sure the product is evenly distributed. As this is a leave in product, finish by styling your hair as you wish.
Olaplex No.7 Bonding Oil - SHINE
This Olaplex N.7 is great for boosting shine while strengthening and repairing your hair. It reduces frizz and flyaways while providing UV Protection and heat protection up to 232degrees. It is colour-safe and helps to extend colour and renew the hair vibrancy. The best thing about this oil is it doesn't leave a sticky residue in your hair and instead leaves it feeling soft, smooth and manageable.
To use, apply a small amount of Bonding Oil to damp or dry hair and then style as desired.
COMING SOON: Olaplex No.8 Intense Moisture Mask
The NEW Olaplex No.8 will be launching very soon in early April. It promises two times more shine, 4 times more and 6 times more . This weightless moisture mask is perfect to provide a boost in hydration and moisture to the most damaged and dehydrated hair types.
It's important to note that while Olaplex treatments can rescue your hair from damage from bleaching and heat, it doesn't mean that you can push your hair to its limits and over process it! Remember it's very important to use a heat protectant when styling your hair and always treat it with plenty of TLC.
Olaplex is a great haircare range to use and you'll notice the biggest improvements the more signs of damage your hair has. The system can be used separately but for optimum results, its best to combine products. Picture the system the same as you would your skincare- Would you choose between using only your cleanser or moisturiser?
Is Olaplex worth the hype? I'll let you decide for yourself… Check out our Olaplex bundles and save now!