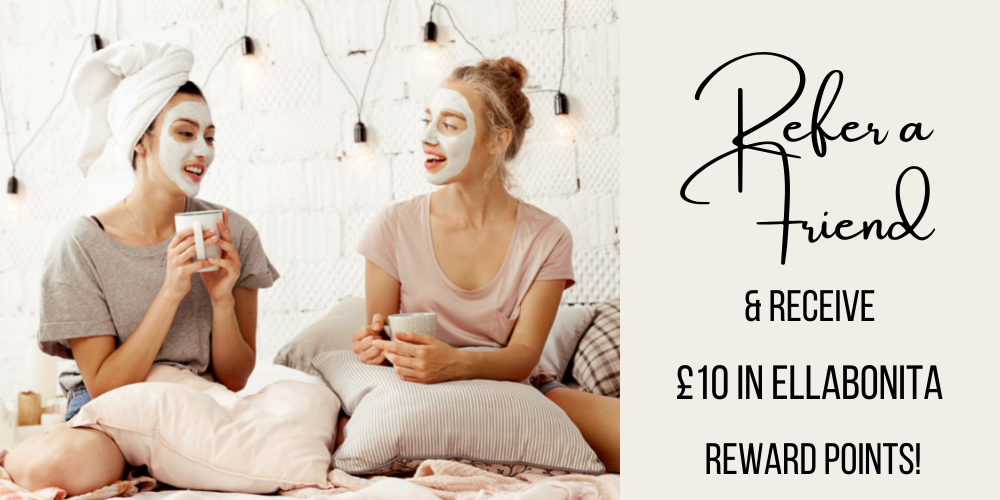 Invite your friends to shop at EllaBonita and treat them to £5 off when they spend over £30 on their first order with us!
How Does It Work?
Step 1. Invite your friend to the EllaBonita website using your unique referral link. Log into your Account and head to the "Referred Friends" section. There you will find your personalised link to share with your friends!
Step 2. Your friend will then click the link and it will take them to www.ellabonita.co.uk.
They will need to set up and account and make sure they are logged in when shopping to make sure their discount code is automatically applied at checkout.
Step 3. Once a successful order has been made, you will receive your £10 worth of EllaBonita Reward Points straight to your account!
- Your referral link is valid for your friend for a week. After this time, you will need to send a new referral link to them.
FAQ's
Does My Friend Qualify For The EllaBonita Reward Points?
Yes! If it is there first time shopping with us, then they are eligible for the Reward discount (£5 off). Please make sure that you friend shops through your referral link to make their purchase as orders made through a different link will be unable to be counted.
Are There Any Brands Excluded From The EllaBonita Reward Points?
Currently, all brands are included. However, EllaBonita has the right to change this at any time.
How Do I See My EllaBonita Reward Points?
You will receive a £10 EllaBonita Reward credit for every successful referral you make. Your Reward Points will be added to your account and you'll be able to see them once logged into your Account under the "Reward Points" section. There are no minimum points required so they are ready to spend whenever suits you!
What Happens If My Friend Cancels Their Order?
If they cancel their order, neither you or your friend will receive any EllaBonita Reward Points. If your friend chooses to reorder through your link, you will both qualify to receive EllaBonita Reward Points on the new order (As long as the second order is not cancelled either).
Can My Friend Receive the £5 Refer a Friend Discount And Use A Discount Code At The Same Time?
Offers cannot be combined together with any other offers so your friend will only be able to use one type of discount code at the checkout.
- The correct link must be used and the £5 discount applied at the same time of purchase in order to receive your Reward Points. Unfortunately, you won't receive points on orders where an incorrect referral link was used.
- Please note we reserve the right to cancel the "Refer a Friend" Reward Points Scheme at any time. You will then be given 2 weeks to spend your EllaBonita Reward Points on the site.
- EllaBonita reserves the right to refuse any Reward Points to the Referrer or the Referred friend at any time.