Eve Taylor® C+ Bright Priming Moisturiser SPF 15
Eve Taylor® C+ Bright Priming Moisturiser SPF 15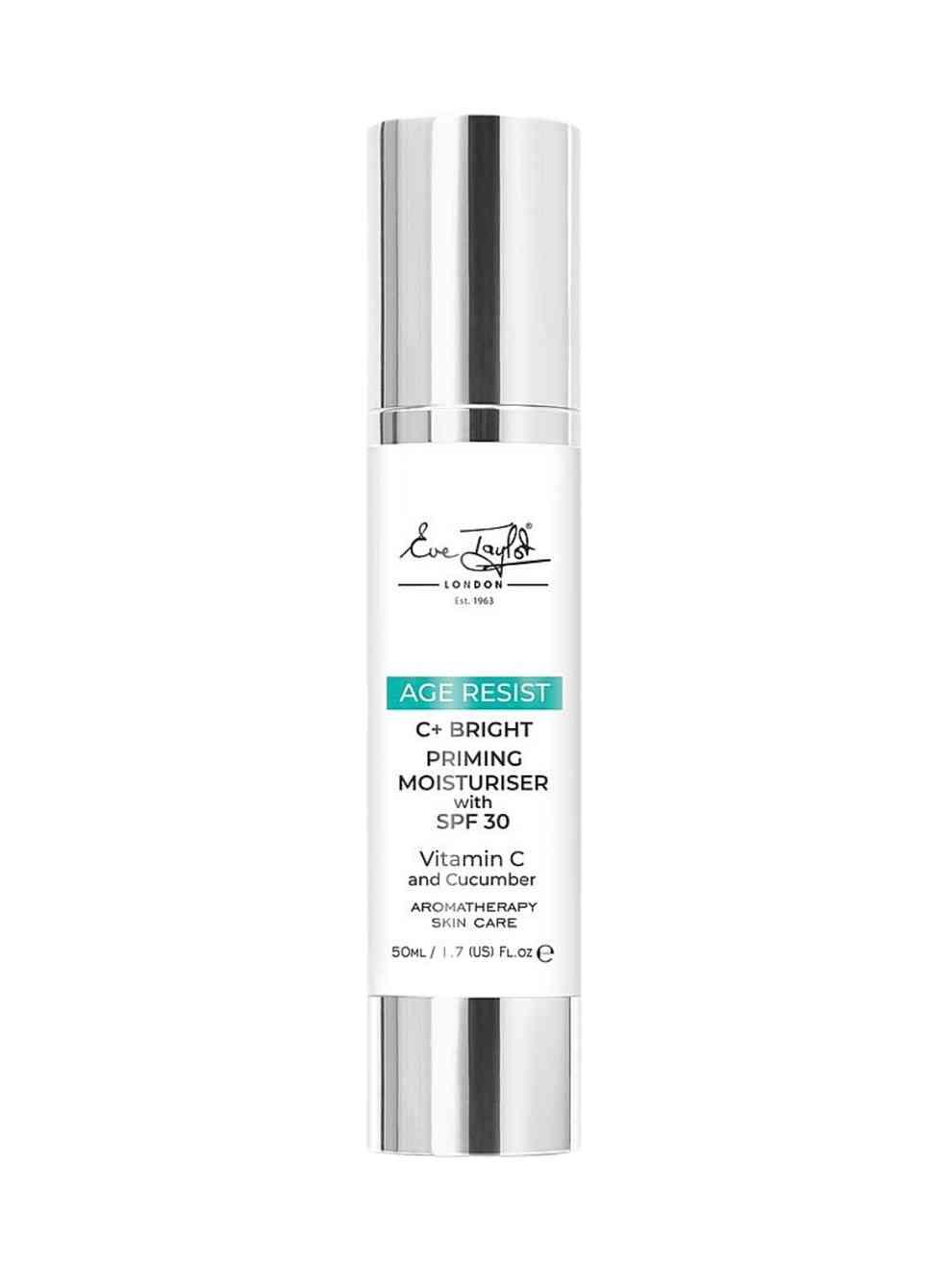 Roll over the image to zoom in
Be the first to review this product.
Eve Taylor London
Suitable For: All Skin Types, especially Hyperpigmentation
Size: 50ml
A medium weight moisturiser with reflective and protective qualities that brighten and illuminate dull and pigmented skin.
Provides broad spectrum sun protection with moisturising qualities.
Skin brighteners help fade hyperpigmentation.
Contains SPF 15 sun protection
Luminosity gives a healthy glow and provides an excellent base for make-up application.
£0.00
£23.00
Eve Taylor® C+ Bright Priming Moisturiser SPF 15
Apply using light fingertip pressure in upward strokes to face and neck. Take care when applying sunscreen around the eye.
High Protection SPF 30
Avobenzone, Octinoxate & Octocrylene: these organic/chemical based sunscreens works by absorbing Ultra Violet light, converting it to heat and dissipating it from the body. 
Titanium Dioxide: this inorganic/physical sunscreen works by reflecting Ultra Violet light from the skins surface and scattering it away 
Diacetyl Boldine - Extracted from the bark of the Chilean Boldo tree, it helps stabilise the tyrosinase enzyme whose activity is essential in pigment formation, therefore will brighten pigmentation. 
Cucumber – highly anti-inflammatory due to its rich Caffeic Acid content, reduces inflammation which can lead to hyperpigmentation issues. 
Vitamin C- Offers skin brightening benefits to dull or pigmented skin by reducing the production of melanin as it enters the skin cells. 
Titanium Dioxide – defends against ultra violet damage, one of the main causes of hyperpigmentation, whilst adding luminosity with its mineral pigment.
Aqua (water), Glycerin, Vitis Vinifera Oil, Cucumis Sativus Fruit Extract, Isodecyl Neopentanoate, Butyl Methoxydibenzoylmethane, Ethylhexyl Methoxycinnamate, Octocrylene, Butyrospermum Parkii, Sodium Ascorbyl Phosphate, Glyceryl Stearate, Titanium Dioxide (CI 77891), Dimethicone, Hydroxyethyl Acrylate, Sodium Acryloyldimethyl, Taurate Copolymer, Tocopheryl Acetate, Isohexadecane, Ceteareth-20, Polysorbate 60, Ceteareth -12, Sodium Dehydroacetate, Trilaurin, Diacetyl Boldine, Polymethyl Methacrylate, Cetyl Hydroxyethylocellulose, BHT, Polysorbate 20, Cetearyl Alcohol, Cetyl Palmitate, Xanthan Gum, Cymbopogon Schoenanthus leaf oil , EDTA, Limonene, Geraniol.
*Suitable for Vegans.
*May be used at any stage or pregnancy.